last change 2009-10-16
Slip-Box for Linux by the "Zettelkasten of Niklas Luhmann"
ZMzettelkasten Version 0.42RC3 (2009-10-31) is available Download here
ZMzettelkasten Release Notes
ZMzettelkasten Tools for Linux Console
Links about Slip-Box (Zettelkasten)


German version of this page - click on flag or here.


Screenshots.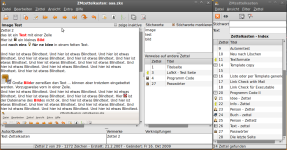 The German word "Zettelkasten" means something like "Slip-Box". A slip-box is just a loose collection of slips collected in a box. So far the slip-box (Zettelkasten) is a frame work for collecting information and ideas during reading, working or studying. Each time you found something interesting or you have an idea you think it's worth to remember just write it down to a paper slip an stuff it in to your slip-box.
A Zettelkasten was very strongly used by the Niklas Luhmann. Niklas Luhmann (December 8, 1927 - November 6, 1998) was a German sociologist, administration expert, and social systems theorist, as well as one of the most prominent modern day thinkers in sociological systems theory. He collected all his information on thousands and thousands of slips, wrote references between the slips and put them together in boxes ... the so called »Luhmanns Zettelkasten«
And ZMzettelkasten is based on the idea to have a Linux program for collecting information in a slip-box style and have the computer tracking the keywords or catchwords and the slip-links inside the Zettelkasten.
Compare with a tree-structured note organisation in a Rolodex-style program ZMzettelkasten has the big advantage just to add a note without taking care where to store and without appraise its value or giving them a priority. Even adding to it catchwords (keywords) and slip-links can be done later. The value of an information will be raising or fall by adding or deleting links and catchwords during working with your slip-box.
At the beginning the work with a slip-box may be confusing since there seems to be no structure at all. But with entering more slips into the slip-box adding catchwords and placing links between the slips you will find it more and usable.
Slip-Box as Knowledge-Database
ZMzettelkasten is not just an "aide memoire". During working with it, it will become a flexible database of you personal knowledge and with your personal interlinking. ZMzettelkasten is ideal for preparing information for a manuscript and also for writing books.
The main advantage of a slip-box against ordinary note-taking systems or notebooks is the networking between the information stored in ZMzettelkasten. First concentrate on storing the information with list of references (Source and/or Author). Add catchwords and links to it as you like ... this does not need to be complete, because it can easily modified after as your requirements may change.
The electronic form of a slip-box gives you also the advantage of a full text search and the ease of modification of content as well as the retrieval and link information. The ZMzettelkasten will become your personal database of unstructured information just by working with it.


For more Information about Slip-Box (Zettelkasten) see
Link List
There is a Windows (German) Version Zettelkasten nach dem Prinzip von Niklas Luhmann. It was developed by Daniel Lüdecke. This program was the basic idea for ZMzettelkasten. And the stored file is (depending on setups) compatible between the Linux and the Windows Version.
Because I don't like to run Windows programs via Wine on my computers I started to rewrite that program ... following my own requirements and ideas ... as GTK-Gnome application.
A word about the possibility to use your collected data in the future.
First: the program is and will be Freeware and if I discontinue to maintain I will put the sources into open source.
Second: there is a command line tool zettel2text available which alows to export the ZMzettelkasten-file into plain text or CSV-format.
Third: I am using the program daily and will extend it to my needs (listening to ideas from users also) for the next few years :-)
Functions of ZMzettelkasten
ZMzettelkasten uses a single file to store the data. It is easy to port this file between system or to put it to an USB-Stick for carrying around. Also you can use as much slip-boxes as you like.
ZMzettelkasten saves textual information in a kind of database file. It is not possible to store images and pictures within a slip-box but you can use "External References" to image-files or PDF-documents or to web-sites. ZMzettelkasten can open this references automatically with a mouse click.
First of all the work with the electronic slip-box seems to be unusual. For systematic thinking people it may be even confusing. But who thinks in a structured way every times? Who knows how he will search for information in future? If you have entered a few dozens slips and accepted the at the first glance chaos you will discover the advantage of this kind of storage. Become accustomed with slip-links and catchwords you will love and cherish your slip-box.
ZMzettelkasten will also allow you to do a full text search thru your slips.
ZMzettelkasten is compatible to the Windows Version of Daniel Lüdecke. If you coose ".zkn" file extension the files may be automatically converted from UTF8 to Windows 1252 character set.
But conversion can also be done manualy on comand line.
iconv -f windows-1252 -t utf-8 infile.zkn -o outfile.zkl - Windows to Linux UTF
iconv -f utf-8 -t windows-1252 infile.zkl -o outfile.zkn - Linux UTF to Windows
Top of page
Download ZMzettelkasten Version 0.42RC1 (2009-10-31)
ZMzettelkasten release candidate 0.42RC1 is available for download. There are a lot of changes. There is a lack in the documentation. Details see ZMzettelkasten Release Notes.
Download ZMzettelkasten Version 0.41RC3 (2008-07-11)
ZMzettelkasten release candidate 0.41RC3 is available for download. It allows slip import and export as well as PDF printing. Details see ZMzettelkasten Release Notes.
Download ZMzettelkasten Version 0.40RC1 (2008-04-01)
The Changes: The first Version of ZMzettelkasten supporting more then just German. Depending on the Desktop Locale ist will show up in German or English. For more Information see:
ZMzettelkasten Release Notes.
ZMzettelkasten as tar archive file (a install script is included) for Debian, Ubuntu and similar systems. The program is developed with Glade, GTK+ und C on Ubuntu 6.06-7.10 systems and is tested with:
Ubuntu and Xubuntu 6.06 until 8.04 with Gnome and Xfce Desktops
Debian sarge with Xfce 4.2
Knoppix 5.0.1 with KDE.
Open SuSE 10.1 with KDE 3.5
PCLinuxOS 9.3 mit KDE 3.5.9 (Thanks to A.Gesellchen)
TinyME-Test-7
eeePC Xandros DT
I cannot test all possible combinations ... Feedback is very welcome!
You like to support me during testing? Please send me an email. Thanks.
Terms of use:
The program is Freeware and your are able to download and use without any fee. You are using the program on your own risk. I am not responsible for any data losses and/or data corruptions.
Before you offer this program on your web-site for download or put it onto a CD for distribution please contact me for an allowance. It like to know what's going on.
(c) 2006-2009 Bernd Holzhauer
Attention:
before you start installation of Version 0.42, please make sure no slip text ist starting with a
@
-character. The '@' in the first position is used to indicate an encrypted slip.
Download for Debian, Ubuntu/Xubuntu 6.06 to 8.04 and other 32-bit Linux systems
ZMzettelkasten V.0.42RC1
DEB package
ZMzettelkasten V.0.41RC3
tar-Archive
With downloading and/or using the program you accept the »Terms of use« above.
Top of page
ZMgrep - simple grep (search) Tool for ZMzettelkasten-Files
This small Linux command-line-tool ZMgrep allows search (like Unix Grep) thru Zettelkasten-Files (of file version 2.6).
If you use more then one Zettelkasten file this may be very useful to find the correct file to open with ZMzettelkasten.
Unix Grep treats the zettelkasten files as binary therefore it is not useful to use it with this kind of files. ZMgrep is a small tool written in plain C, which greps thru title-line and slip-text for matching.
Repair & Export Tool - zettel2text
An other supporting command line tool zettel2text. This program can convert the slip-box into a plain text file which can be modified by a standard Linux editor. Also it can "recompile" the text file into a ZMzettelkasten-file after. Another function of this program is the export into a CSV-text file for further processing.
Questions, Suggestions or Error descriptions? Please
email
to me.
If somebody likes to help with testing and/or translating, please contact me by
email
.
Suggestions and feedback about using ZMzettelkasten on other Linux versions is also welcome.
Please be aware of: even if I spend a lot of time into development of this program it is still just a "hobby". If someone outside has experience in using GTK with plain C it would like to share information.
Top of page
Links about Slip-Box (Zettelkasten)
Top of page
---